VP residence buzzing with new beehive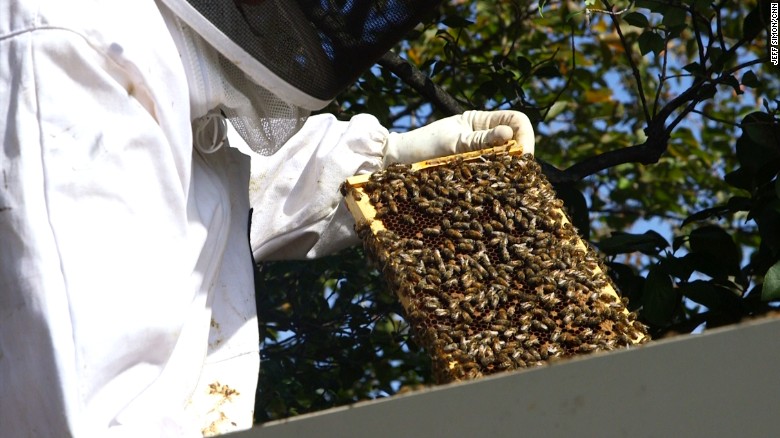 JUST WATCHED
Meet the 35,000 bees on the White House lawn
Second lady Karen Pence unveiled a new beehive on Tuesday
The bee population is in decline
Washington (CNN)The Naval Observatory was abuzz Tuesday morning as second lady Karen Pence unveiled a new beehive at the vice president's residence.
"I know honeybees and the critical role they play in our country's agriculture is just as important to you as it is to me," she said to a small crowd of invited bee-list guests, including representatives from the American Beekeeping Federation, Agriculture Secretary Sonny Perdue and the Almond Board (almond trees are very dependent on honey bees for cross-pollination).
The second lady, who first kept bees at the Indiana Governor's Mansion, knowledgeably rattled off a long list of bee facts.
"One out of three bites of food taken in this country are made possible with the help of pollinators," Pence noted, adding that pollinators like bees, bats, and birds add at least $15 billion in crop value per year.
"I mean, I've learned so much about bees in the last four years," she waxed.
While there are many causes for the bee decline, climate change may also play a role in the changing population.
Pence implored Americans to take steps to help rebuild the bee population, from building a hive to planting bee-friendly flowers, herbs and vegetables to setting up a birdbath.
She made a beeline to the new triple-deep "Langstroth" hive, kicking off her high heels and walking barefoot in the grass alongside her guests.
The 15,000-20,000 busy bees in the vice president's backyard will produce honey, which will be harvested, bottled and given away, per Pence, who also touted the health benefits of honey in combating seasonal allergies. The bees join
a menagerie of Pence pets, including bunny Marlon Bundo
, and cats Pickle and Oreo.
The agriculture secretary proclaimed the third week of June "National Pollinator Week."
"I'm proud to know that the USDA is on the cutting edge of helping to resolve the decline in beehive population across the country," Perdue said, highlighting his department's research on the issue and National Pollinator Health Strategy work with the EPA.
First lady Melania Trump is committed to carrying on the White House garden tradition, beehive and all, acting senior adviser Stephanie Winston Wolkoff
told CNN
in February.